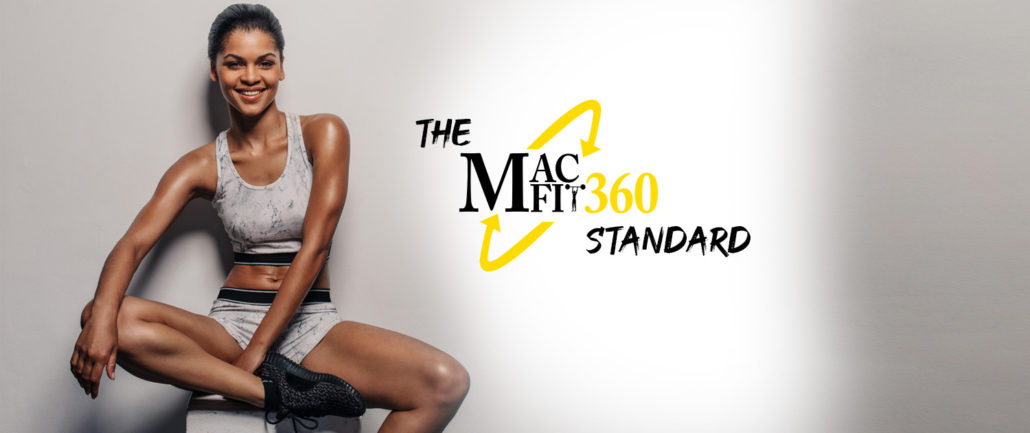 MacFit360 Standard
Please check this page frequently as we update policies and protocols to protect you.
MacFit360 is closely monitoring all government health and safety protocols. We are committed to meeting, or exceeding, them. We will only reopen when we are comfortable that it is safe to do so. This means not only having the green light from government but, also being confident that we have our standards in place so that members and associates feel safe coming back to our clubs.
CLIENT RESPONSIBILITIES and NOTICES

Bring your own towel or yoga mat
Bring personal sanitizer of preference
Wear a mask
Bring a water bottle
Practice social distancing at all times
Please wipe equipment before and after use
Buy / renew your membership online at buy.macfit360.com
We encourage clients to use their debit cards and credit cards instead of cash
We encourage clients to use our outdoor amenities
We encourage our clients to arrive ready to workout to avoid lines to enter restroom due to social distancing protocols
No group workouts
No socializing
Please follow all protocols in place to avoid the spread of Covid-19
Showers will not be available
SAFETY & CLEANING PRACTICES
As we reopen our East & West locations, we are introducing a number of new cleaning practices and protocols in order to protect the health of our Members, Associates and community. While many of these new practices will be adopted by our Associates, our Members also have a very important role to play in helping us maintain The MacFit360 Standard.
Safety Cleaning Practices:
All MacFit360 locations will undergo an intensive, deep clean, prior to reopening.
We have invested in sanitation devices, equipment to meet the standard. When combined with our increased touch point disinfection and our cleaning program, this will ensure our gyms receive a comprehensive thorough cleaning every day.
We have procured a one-step

EPA Registered Disinfectant/Virucide, Industrial Commercial Grade

hospital grade disinfectant and contact sanitizer that will be used for frequent touch-point cleaning throughout our gyms including fogging.
Our associates will adopt a "constantly cleaning" mind-set, ensuring special attention is always given to high-touch surfaces.
Members will be required to wipe down their equipment BEFORE and AFTER each use. To make this convenient, additional wipes stations will be strategically placed throughout gyms.
Additional hand sanitizer has been made available, including the installation of hand sanitizer stations at strategic locations throughout the gym.
All MacFit360 associates will be required to wear masks, with the exception of group fitness instructors who are actively teaching a class.
Lockers will be cleaned and sanitized regularly.
The MacFit360 Standard will exceed government requirements, and ensure a healthy environment for all.
MEMBERSHIP UPDATES
Your memberships are at 100% of there date balance as per our last day of being open
Your membership has been extended with these extra days at no charge
All Memberships with remaining days will reactivate on on our first day back.
Clean Air Technology at East & West Locations – Coming Soon
Fogging MacFit360 with a
EPA Registered Disinfectant/Virucide, Industrial Commercial Grade

hospital grade disinfectant and contact sanitizer.