The Bahamas Newest Aquatic Center:
25 M 6 Lane – FINA Certified Competition Pool with Colorado timing system.
Macfit360 Swim School
Home of the Black Marlins Swim Club

Member Recreational Swim
Temperature Controlled
Fast Swim Design
Lockers, Showers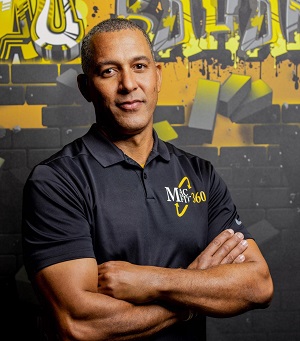 The Expert: Allan Murray, Aquatic Director & Elite Trainer, Olympic Swimmer for Bahamas at Barcelona 1992, Atlanta 1996 & Sydney 2000 Olympic Games
"To become proficient, you should invest in private swim training sessions.  Training and technique are best provided through private sessions conducted by both an experienced and certified coach," says Murray.
Allan knows best, especially this elite level coach that was a  three time Olympian and a NCAA Division 1 athlete at the University of Georgia.
Allan even attended Sydney 2000 with his youngest brother Chris Murray! Allan was taught by coaching greats Albert "Bert" Bell in Grand Bahama and Olympian & Olympic Coach Andy Knowles.  Allan is raising his children to possibly become Olympic swimmers someday. "The motions involved in swimming well are complex and utilize nearly every muscle in the human body.
It requires some serious flexibility of the shoulders and ankles in particular but after a few weeks of sessions one can really become more comfortable working their body in the pool.
One can really begin to enjoy the feeling of swimming more efficiently and some find a sort of utopia while swimming and moving weightlessly through the water.
Swimming efficiently is like making music but also getting in a good aerobic workout and a light massage at the same time.
Our phased and focused approach to professional and elite private swim training will improve your swimming ability, efficiency, endurance, and speed" claims Murray.
Allan's Advice: Drills and consistency are key but patience is everything.
Benefits of Investing in Macfit360 Private Swim Training
We interview you to get an insight into your swimming ability and history then immediately help you set goals.
We analyze which positions are beneficial and which positions are impeding your swimming speed.
We determine with accuracy and precision, the best swimming techniques for you.
We measure and improve the swimmer's body rotation and body rotational speed, which influences the propulsion or power generated by the pulling hands.
We provide sets, drills and tools for ankle flexibility and leg endurance towards developing a consistent and propulsive kick.
We provide New Technology in Swimming
We provide High Performance Swim Training
We provide Drills for Faster Swimming
We provide Swim-specific Strength Training
We provide Elite Athlete Race Strategy and Mental Preparation.
Book a private session with one of MacFi360 Elite personal swim trainers for a personalized coaching experience! We offer 30 minute and 50 minute private sessions. Training sessions are subject to coach and pool availability.