MacFit360 FAQ
Frequently Asked Questions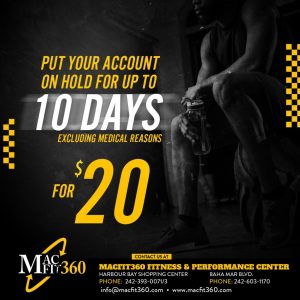 Policies, Rules and Etiquette
At MacFit360 we strive to create an environment that is safe and welcoming. Our vision is to give all Bahamians the opportunity to live a fit and healthy good life. We have a zero tolerance approach to abusive and aggressive behavior.
We ask that you conduct yourself in a well-mannered fashion and approach other Members and Associates in a friendly and respectful way.
· When working on equipment we ask you to allow fellow Members to work in between sets.
· Please replace all weights/equipment to their proper place when you are finished using them.
· Place dumbbells/weight equipment lightly on the floor after each use.
· Please be respectful of the Club hours and ensure you have enough time to leave the Club at or before the closing time.
· Wipe down your equipment after use.
· During busy times, limit time on each cardiovascular machine to 20 minutes.
· Workout bags are to be kept locked in lockers and are not allowed on the workout floor.
Personal Training: May I train my clients at MacFit360 facility?
No, only MacFit360 Certified Personal Trainers are allowed to train clients at MacFit360. Persons that are found to be providing Personal Training services to clients that have not been exclusively approved by MacFit360 will have their membership privileges terminated.
Memberships
· A Membership key tag that has your bio metrics encoded will be given to all members.
· A Membership entitles Members to use the facilities available.
· If you lose your key tag, you just need to bring photo identification and the front desk will provide a new tag, there is a charge for a new tag.
Are the Group Fitness classes included in my Membership?
Yes! The Classes on the regular Group Fitness schedule are included in your Membership – click Group Fitness Classes to be taken to Group Fitness information.
May I book classes without a Membership?
To book classes you would need a valid membership at MacFit360.
May I book classes online at macfit360.com?
Yes! Once you have a valid membership, you may book, cancel and manage all of your schedule at www.macfit360.com.
Please visit us at  the front desk to purchase your membership.
How can I buy a membership?
Buying a membership for MacFit360 is easy, please visit us at the front desk or click the "Buy Now" online.
May I freeze my membership during vacations or away travel?
Yes you may freeze your membership at anytime for up to 10 days, there is a $20 admin fee. You may freeze your membership due to illness at no charge, please bring your doctors note.
See customer service at the front desk.
Lockers
Lockers are available for you to use on a first come, first serve basis and for single day use only. Use of lockers is at your own risk and MacFit360 is not liable for any theft of or damage to your property.
How old do I have to be to work out at MacFit360?
The minimum age to work out at MacFit360 is 12-years-old. We require a parent or guardian's signature for anyone under the age of majority. In addition, in order to keep younger members safe they can only workout under the supervision of one of our Certified Personal Trainers.
May I drop my weights while I work out?
We do have a policy against dropping the weights in our Club, as this damages both the weights themselves and the floors. It is also very disruptive and can be intimidating to other Members.
How do I keep myself safe while working out with dumbbells?
It is always recommended to have a spotter when working out with free weights, especially heavy weights. When using dumbbells, make sure that the area around you is clear (to avoid pinching your hand on another dumbbell when putting it down) and that you are using a weight that you are able to handle safely.
Do you have WiFi at the Gym?
Yes we provide free WiFi at MacFit360.
How can I get help using a machine correctly?
We have many Starter Programs that will help you understand how to use the equipment. The Starter Programs will also identify the workouts that you prefer and those that are best suited to help you achieve your health, fitness and wellness goals. Be sure to check out our MacFit360 options or ask any of the team Members at your gym for more information.
What do I bring/wear to the gym?
Pack your gym bag with the following items to have a successful first visit and a great experience every time:
– A workout towel to wipe down the equipment after use.
– A water bottle
– Workout clothes & appropriate gym shoes.
What is MYZONE?
Our goal is to help you see results and maximize your workouts. With so many different workout options, it can be hard to know which path to start on. Using your heart rate as your intensity guide is a convenient way to ensure effective workouts, no matter what you choose as your activity.
The World Health Organization recommends 150 minutes of moderate-intensity aerobic physical activity or 75 minutes of vigorous-intensity aerobic physical activity per week. This works out to be 30 minutes of moderate-intensity activity 5 times per week or 25 minutes of vigorous activity 3 times per week. Using the calendar, map out the days and times for activity that work for you so that it can fit into YOUR lifestyle. Your activity can include taking a Group
Fitness class, playing a sport, doing an active outdoor activity or coming into the gym for a Fit-Fix workout.
Working out in your targeted heart rate zone is the best way to focus on your specific goals and see great results. Depending on your fitness level and age, your heart rate zone will fluctuate. To find out what your training heart rate zone should be, please book a Fitness Starter or Fit Fix Starter or ask an Associate for details.
Working out in the Red and Yellow zones below are considered your vigorous-intensity zones.
Working out in the Blue and Green zones below are considered your moderate-intensity zones.
How do I purchase a MYZONE belt?
See an Associate to get a purchase your belt. They will set you up. Once you have paid, you will be asked to register your belt and will be prompted to enter your birthdate, weight, height, email address and password.